...is over. My seminar was tonight and it went over very well, both profs and students were complimentary. I'll do a post on cruciform pi-systems (my seminar topic) later, but just to give you an idea of what my seminar was on... remember this pic?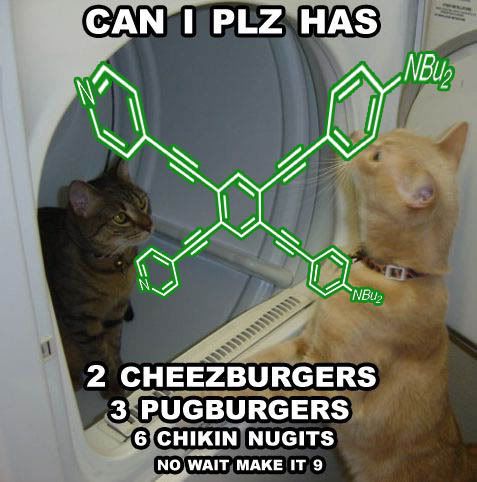 Yeah, that thing in front of the lolcats? That's a cruciform pi-system developed by Mike Haley's group. They do some interesting things- high optical nonlinearities, really fluorescent... but more importantly, they're PURTY-COLORED. But that post will have to wait for another time, as I just cleared the second-biggest hurdle for o-chem grad students here (after third-year prelims) and, quite frankly, I'm going to spend a night or three not giving a shit about this topic, as I've been preparing for this talk for the past month. I'll see you guys then. (also I might need to get back to doing research... I hear that's why you go to grad school, but I keep hearing mixed reviews.)

If you guys want a copy of my seminar slides, I'd be more than happy to oblige, but gimme a week or so to fix them up (lots o' animations and such made the printouts funky). Just email me. Cruciforms are a really interesting set of molecules, even if they're not terribly useful. Yet.